BOOKS
PERFORMANCE PEACEKEEPING:

FINAL REPORT OF THE EXPERT PANEL ON
TECHNOLOGY AND INNOVATION IN UN PEACEKEEPING
AIR POWER IN UN OPERATIONS: Wings for Peace
Edited volume published by Ashgate Publishing, 2014

KEEPING WATCH:
Monitoring, Technology and Innovation in
UN Peace Operations
United Nations University Press
Further Information (html)

WORLD ORDER FOR A NEW MILLENNIUM:

Political, Cultural and Spiritual Approaches to
Building Peace
Edited volume published by St. Martin's Press and Macmillan press, 288 pp.
Available at amazon.com.
Book Introduction
Back Cover Commentaries
Google Books preview
TREATY COMPLIANCE:
Some Concerns and Remedies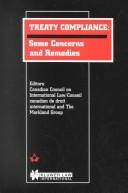 Proceedings of a Workshop organized by Walter Dorn on behalf of the Canadian Council on International Law and the Markland Group
Edited by W. Dorn et al., Kluwer Law International, The Hague, 1998, 144 pp.

DISARMAMENT'S MISSING DIMENSION:
A UN Agency to Administer Multilateral Treaties
by Douglas Scott, George Alexandowicz, A. Walter Dorn, Michael Greenspoon, Jennie Hatfield Lyon and Gerald Morris (comprising the Markland Policy Group).
Edited by Derek Paul and Hanna Newcombe
Published by Science for Peace / Samuel Stevens, Toronto, 1990, 150 pp.
Including individually authored section: A Verification Agency
Inside or Outside of the UN?

Google Books preview
PEACE-KEEPING SATELLITES:
The Case for International Surveillance and Verification
Published as two issues of Peace Research Reviews (Vol. X, Parts 5&6, July 1987, 184 pp.)
Book review appeared in Space Policy
BOOKLET
THE PEACEKEEPERS Study Guide, National Film Board of Canada (2006) (pdf), NFB (English, French)

*******

BOOK CHAPTERS (with selected book covers)